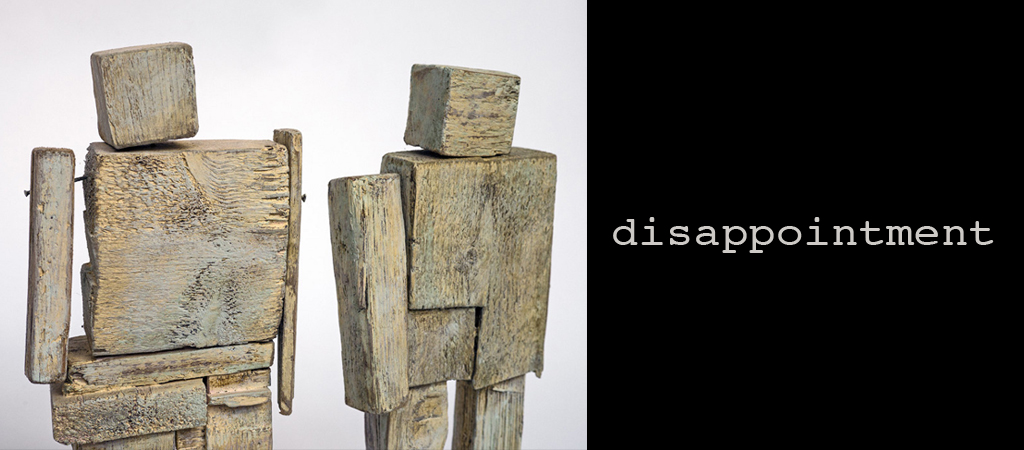 Life is disappointing. There, I said it.
I don't mean, in the final analysis when everything is added up, that the score card of life is saturated with disappointment to the point where nothing else is detectable.
But I think it'd be a cover-up to say that disappointment isn't there. It is there. And I know it well.
Life isn't all disappointment. It is deeply disappointing, and it is also richly rewarding. It is full of success and sorrow, victories and defeats, progress and set-backs…
Perhaps my experience is unique. Maybe everyone else is living disappointment-free.
That last line was sarcasm.
Life is disappointing.
My point in bringing this up isn't to be all depressing. I'm not channeling my inner Eeyore or Oscar the Grouch. I am, however, interested in having honest conversations about life as we know it.
While walking around the lake the other day, my wife was commiserating about an event she recently planned and hosted. She wasn't complaining, but she was disappointed. Her expectations were higher than what actually happened. She said, "I was envisioning everyone having more fun than they seemed to be having."
When she told me that, I laughed. Then I said, "EVERY event I've EVER put on, I had hopes that the people attending would have more fun than it looked like they did."
And that is the truth.
I don't think I've ever met one of my own goals on time. Every construction project I've been involved with cost more than originally planned.
Marilyn Monroe knows what I'm talking about – she said, "Dreaming about being an actress is more exciting than being one."
I love this disappointed quote from Sarah Ruhl, "I always thought there would be more interesting people at my wedding." That cracks me up. And it reminds me, I'm not alone.
Disappointment is part of life. I've been disappointed before and I will be disappointed again.
Maybe it's not all that terrible being disappointed.
Wile E. Coyote has been chasing the Road Runner for years now – one failed attempt after another. He envisions a tasty bird BBQ, but ends up having an anvil fall on his head instead. His life is full of disappointment, but he's still in the chase.
When you think about it, if Wile E. Coyote ever did catch the Road Runner, THAT would actually be disappointing. End of the story. What now?
Disappointment is a good sign. It means the story isn't over. We're still in the chase.
Conan O'Brien said, "The beauty is that through disappointment you gain clarity, and with clarity comes conviction and true originality."
I like that. And I like my disappointing life – still going, still chasing, still dreaming.
If your heart is broken, you'll find God right there; if you're kicked in the gut, he'll help you catch your breath. —Psalm 34.18
This is part 1 of 3 posts this week. Come back tomorrow for "When God Disappoints," and on Thursday for "Maybe Disappointment Is OK After All."
I'd love to have your voice added to this…
QUESTION: What are life's disappointments teaching you?