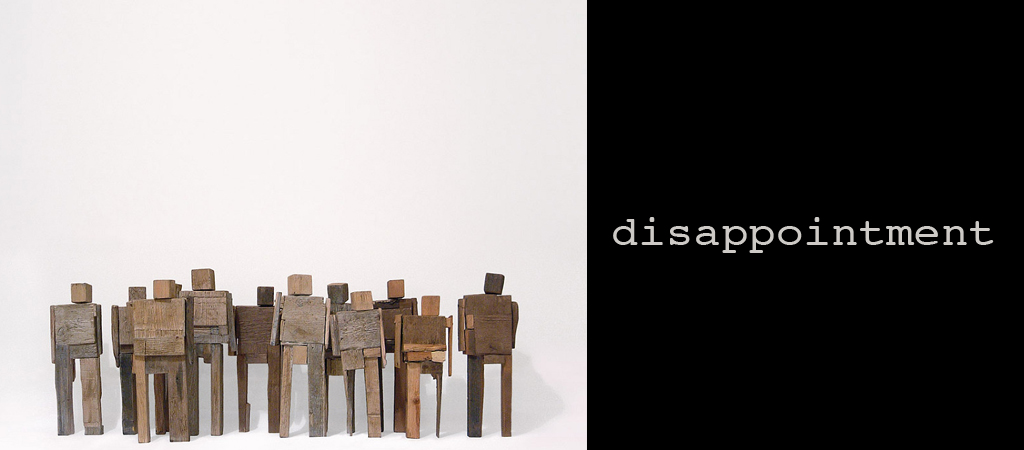 Maybe Disappointment Is OK After All
I wish things in my life had been different.
By different, I guess I mean easier and less disappointing.
I wish my one set of grandparents hadn't rejected my family when I was in elementary school. I wish my other grandmother, the good one, wouldn't have died so early from lung cancer. And I wish I wasn't the one to find my good grandfather, hours after his heart attack, dead on the floor in his house.
I wish my younger brother wouldn't have left home when he did. I wish we had a better relationship.
I wish my sister's husband wouldn't have cheated on her. I wish he would have been a good husband and father. And I wish they could have made it work.
I wish Shari and I could have had more children.
I wish the friends who I thought "really got me" would still be part of my life instead of leaving me.
I wish the ministry leaders I've admired for so long would have been proud of me, or at least noticed me.
I wish my mom didn't have cancer.
There's more too, but I won't bore you with the details.
We all have "I wish things in my life had been different" lists. They contain painful memories, disappointments, personal hurt, broken relationships, reversals of fortune, unmet expectations, and loss.
Although I have plenty of things that I wish had been different in my life, I cannot go back and change them…
And they have made me who I am today—scars and all.
When I think about the most beautiful people I know, they are survivors. They have long "I wish things had been different in my life" lists. They have lots of scars, but they are still alive—living, breathing, reaching, dreaming, loving, and moving forward.
They walk with more of a limp than a swagger.
These friends have lost loved ones. They have been betrayed. Their prayers have gone unanswered. They know hurt and pain and disappointment very well.
These are the most beautiful people I know. The most beautiful are not the ones who've had everything go their way.
In my experience, the ones who always get everything they want are unbearable. They are like spoiled wealthy heirs and heiresses who have never been told "No" as they grow up to become bigger monsters. Not beautiful. Ugly.
My wife wrote the following comment related to this "Disappointment" series:
"Having walked my own seasons of disappointment I think it made me care about others more genuinely because I knew pain on a significant level. It also made me wrestle with what do I believe about God? Answers to this aren't fully there – and they won't ever be. But 10 years later (embarrassingly) I feel like I'm more content with how I view God in the mix of unrealized dreams and dashed hopes. Had I gotten my way on everything I wanted I might still be just telling people, 'Just have faith, God will give you the good thing you're praying for.' I feel bad for the years I would have even said that to people and believed it. Truly we have such a loving God who is alongside us in life's adventure. He doesn't cause the pain. He doesn't withhold the blessing. He comes and sits along side us, right in our broken places and loves us there. He's OK with our questions, our anger, our jealousy. And it's there he tenderly heals us."
She is more beautiful because of the scars she bears, beautiful in her disappointment and pain.
My goal is not to minimize your loss, your hurt, your disappointment. I just want you to know that you are beautiful. You're still alive – still breathing and moving and dreaming. Your story isn't over. The pain you have and the limp you walk with gives you a unique place in the lives of others who are going through something difficult right now. You give them hope.
You are beautiful with your scars and your limp.
"We are pressed on every side by troubles, but we are not crushed. We are perplexed, but not driven to despair. We are hunted down, but never abandoned by God. We get knocked down, but we are not destroyed." —2 Corinthians 4:8-9
Maybe disappointment is OK after all.
I read something in an article the other day that suggested we might be addicted to happiness. The author, Rebecca Tekautz, said:
"I feel a little helpless, sitting back and watching as this adherence to happiness infects the Church like poison. Slowly, and sometimes silently, it seeps into our thoughts, our prayers, our relationships. We are drug addicts, endlessly searching for our latest fix. The moment the effects of our latest hit of happiness have worn off, we are in pursuit of the next. We cannot stop and sit in our pain, disappointment or emptiness."
Wow. That last line really slapped me in the face.
We cannot stop and sit in our pain, disappointment or emptiness.
Another writer, the philosopher Peter Rollins, suggests we have made idols out of certainty and satisfaction. Although we have a longing to be both certain and satisfied, we were not made to be either.
Beautiful people are not 100% certain about everything and they are not 100% satisfied with everything.
No, instead, they walk with a limp and they have scars. They have long "I wish things had been different in my life" lists. They know pain and sorrow and disappointment very well. They still have questions that cannot be answered. And they are beautiful.
So, will there be more disappointment? Most certainly.
I like what Pastor Jonathan Martin said: "It's not going to get easier. It's not going to get less complicated. But there is – and there will be – grace."
The Lord is near to the brokenhearted and saves the crushed in spirit. —Psalm 34.18
This is part 3 of 3 posts this week. Check out yesterday's "When God Disappoints" and Tuesday's "Life Is Disappointing."
Please share. You have something to add…
QUESTION: How have you seen beauty in the scars and limp of the disappointed?