I Want To Be Honest, But Not Really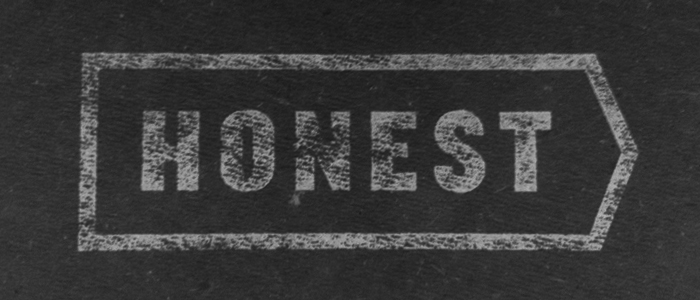 A lesson I learned early on as a young leader was this: "Be honest, but not really."
The truth is, I was naive. I hadn't learned the ropes yet. And I certainly didn't know all the written and unwritten rules.
So when my pastor, who was visibly thrilled about a ministry event that had just taken place asked me, "Wasn't that THE BEST EVER Brian?" I didn't know only one answer would be acceptable.
Stupid me. I actually thought he was asking for my opinion – so my logical brain immediately determined this event was NOT the best ever. I slowly attempted to answer the question honestly and tactfully. "It was really good. Maybe not THE BEST EVER, but I liked it. It was good…"
In my naivety, I wasn't prepared for his reaction. The look of visible excitement turned into disbelief, disgust, and anger. I was confused. He was acting as if I had just insulted his wife. My honest answer got me a lecture on the subject of bad attitudes.
This experience wasn't fun. I walked away feeling like an idiot.
And so I learned this lesson: "Be honest, but not really."
Now I'm paranoid, never sure if honesty will get me into trouble. I look for ways of giving safe, innocuous, non-answers. Honestly, I don't trust myself – I've thought it was safe to speak truthfully before, only to discover my friends or colleagues didn't really want that much truth.
I know there's much to be said about tact, diplomacy, and speaking the truth in love. These are all skills that I struggle with and need to grow in.
Although I've learned the unwritten rule, "Be honest, but not really," I still find myself being drawn to the unadorned truth. I like honesty without spin, and it scares me too.
Brennan Manning said, "There is a beautiful transparency to honest disciples who never wear a false face and do not pretend to be anything but who they are." I love this quote, and it also scares the hell out of me.
If I'm transparent, honest, never wear a false face, and do not pretend to be anything but who I am, people will see ME exposed. I don't know if I can handle the opinions and judgments and, here's the real issue, potential rejection.
Maybe I'm too afraid of rejection. Perhaps I care too much about what others think of me. It's possible that I spend far too much time creating my own spin, obsessing over image management to the point where the "public me" and the "real me" don't share any genetic code.
God has only ever seen the real me, and He loves me perfectly. That's pretty incredible.
I wish that was all I needed. But there are people in my world, so I must continue to wrestle with honesty and diplomacy, truth and love, being real and being tactful.
It's not as if we can only have one or the other. It's not truth or love. These things don't have to work against each other.
I do think the church community needs to become a safer place to lay down our masks and be transparent. We can learn a lot from Alcoholics Anonymous…
AA is not built on scapegoating, but rather on being honest and courageous about ones own struggles and brokenness. Those who attend do not find unity in hiding from their conflicts, but in bringing them to the full light of day in a place of grace and acceptance. —Peter Rollins
I'm not sure I have any real answers to my own internal wrestling match between honesty and image management. I am willing to take some risks though. I do want to lead the way by putting myself out there with greater transparency. As a leader in the church, I want to create an environment where people feel safe to be themselves – where spin isn't necessary, where grace and acceptance flow freely.
So I'm working on this. I'm trying to be more honest and vulnerable. I hope it helps, but I'm still nervous about the impressions and reactions. Just recently, I tweeted something honest:
I am a bundle of contradictions: grumpy yet full of hope, sinner & saint simultaneously, can't stand most pastors & I am one.
What do you think? Is it helpful or do I need another lecture on bad attitudes?
This is part 2 of 3 posts this week. Come back tomorrow for "The Honesty And B.S. Graph." Also, check out yesterday's post, "Honest People Scare Me (And I'm Starting To Like It)"
I WANT TO HEAR FROM YOU:
Have you wrestled with wanting to be honest, but not really? Have you taken hits for being "too honest?" I'd love to hear your stories…