Shari and I have these friends, let's just call them Jackie and Dave, who we keep talking about wanting to drop in on or invite ourselves over to stay with them for a night or two.
We've been friends for years. Dave even sang in our wedding.
Jackie and Dave hold this unique position in our lives – they are the safest people we know.
By safe, I mean they love us unconditionally. We can tell them anything and it won't change how they treat us. They're not threatened by questions or doubts or tangents or whatever latest-greatest idea I've bought in to. They are safe. Safe to talk to, safe to open up with and share what's really going on. Safe to be real with.
We don't have to pretend around them. Our conversations are honest and there's no BS. Because we can speak honestly and vulnerably, there's no need for clichés.
This is why we keep talking about wanting to visit them. They live a couple hours away now, but the drive is worth the reward: a safe place with safe people. I think it's time to plan a trip.
I don't enjoy being lied to. Do you?
And while clichés aren't as offensive as lies, they're still annoying. They are vacuous expressions; sentences empty of genuine meaning or feeling. When someone lies to you, it's personally offensive; when someone speaks to you in clichés, it's offensive to your intelligence.
We (hopefully) prefer honesty. But honesty comes at a price…
What's the price of honesty?
Safety.
The higher the level of safety, honesty increases.
The opposite is also true: the lower the level of safety, B.S. increases.
And in the middle, where we're not really sure exactly how safe things are, clichés abound.
What I've just described is "The Honesty And BS Graph." Here's what it looks like: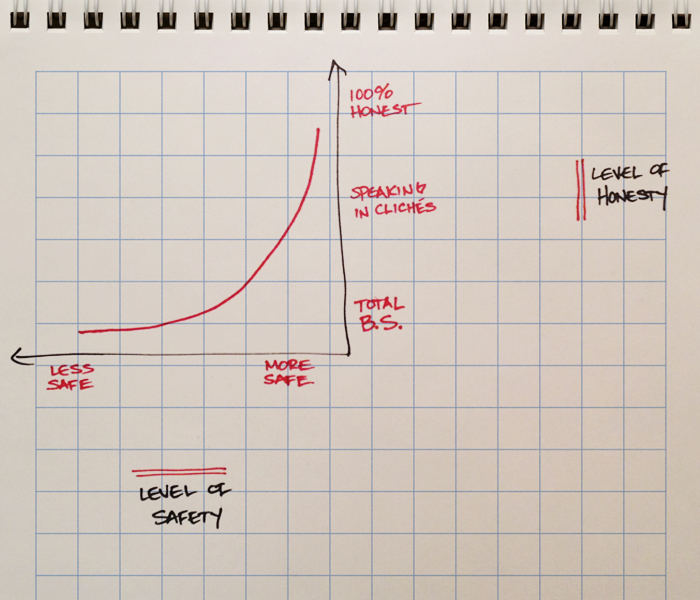 Let me give a few examples…
Less safe experience – a first date. Communication is BS: "That's my favorite song too!" and "I love to cook."
Not sure how safe things are – church small group discussion. Communication is in clichés: "But you know, sometimes you just gotta let go and let God," and "I'll definitely be praying for you."
Safe experience – meeting with your therapist. Communication is honest: "I'm still hurt by what he said," and "My sister is a self-centered jerk."
One of the things I love about the Psalms is the level of honesty seen in the prayers. It's fun to imagine someone praying like this in church or a small group…
This is a cry for help! I'm wasting away to nothing, burning up with fever. I'm a ghost of my former self. My jaws ache from gritting my teeth; I'm nothing but skin and bones. All day long my enemies taunt me, while others just curse. And all because of your furious anger; you swept me up and threw me out. There's nothing left of me. —Psalm 102.2-11 MSG
Awkward! But here's what's cool about that being in the Bible: God is not afraid of our honesty. He is safe for us to be real with.
I'm not advocating for terribly depressing prayers in our church services, but I do believe we should be safe people. And I think we can and should help the church become a safe place for people too.
This is the lesson of "The Honesty And BS Graph" – how safe we are directly effects the level of honesty we will receive.
I'm thankful for people like Jackie and Dave, and I want to be more like them.
WHAT ABOUT YOU? Do you have someone like Jackie and Dave in your life? How have they made you feel safe to be honest? I'd love to hear your experience(s).
This is part 3 in the series. Check out part 1, "Honest People Scare Me (And I'm Starting To Like It)" and part 2, "I Want To Be Honest, But Not Really"