Honest People Scare Me (And I Think I'm Starting To Like It)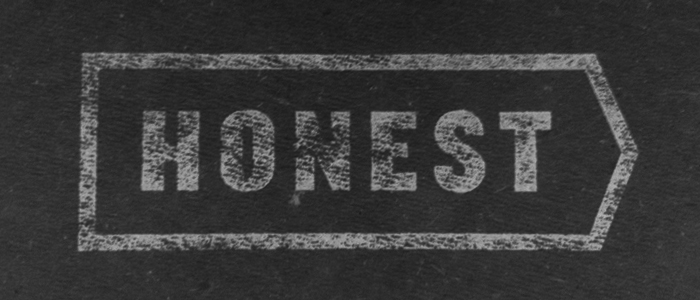 Honest people scare me.
Maybe it's because I believe that famous Jack Nicholson line from A Few Good Men, "You want the truth? You can't handle the truth!"
Or maybe it's because I'm a control freak and allowing someone to say what they really think is handing over the controls to them. And who knows what they might say? Scary!
Speaking of honest people, children can be brutally honest. Recently, my niece looked out the back windows of our house and said, "You guys don't have a very nice view, do you?"
She's right about the view. And she scares me because I don't know what she's going to say next.
Sometimes I wonder about Simon Cowell. I wonder if his friends and family have gotten used to him saying whatever is on his mind. I wonder if he's a nightmare to serve at a restaurant. I wonder if he's as no holds barred honest with himself as he is with every one else.
I have this friend, let's just call him "Shaun," who is extremely honest. Like, I know whenever I ask him a question, he's always going to tell me what he really thinks. Sometimes he'll even apologize after giving me an answer and say, "Maybe I shouldn't have said that." The thing is, Shaun makes me nervous with his honesty, and I think I'm starting to like it.
I know I get a real answer from him. He doesn't sugar coat or finesse his words. They just come out, and they are honest. I actually appreciate it.
Maybe we need more truth tellers. Not so much insult-laden critiques, but simple honesty. The humble kind.
The real power of honesty is when it reveals what is true in us. In other words, honesty is at it's best when we're telling the truth about OURSELVES. That kind of honesty is scary for most of us.
It's easier to be honest by exposing what's wrong with someone else. And although it might be true, it usually lacks any restorative power. Instead, it just stings.
At the end of a meeting a few weeks ago, one of my staff members broke from the agenda and said, "Um, I have something I need to share…"
There was a nervous tension in the air. You could tell they were going to say something honest – not scripted or finessed, but real and from the heart.
The individual went on to share something difficult that she's facing and asked us to be praying for her and her family. We stopped everything and prayed. Those few moments were the best of our entire meeting. They were unplanned, unscripted, unrehearsed – and they were honest, genuine, real, and restorative.
Was I scared when she spoke up? Yeah, a little. But I'm so glad she did.
I realize that honest people scare me, and I think I'm starting to like it.
We refuse to wear masks and play games. We don't maneuver and manipulate behind the scenes… Rather, we keep everything we do and say out in the open, the whole truth on display.

—2 Corinthians 4.2 MSG
This is part 1 of 3 posts this week. Come back tomorrow for "I Want To Be Honest, But Not Really," and on Thursday for "The Honesty And B.S. Graph."
I'd really like to hear from you on this subject…
In your experience, when does honesty seem to just sting and when is it restorative?