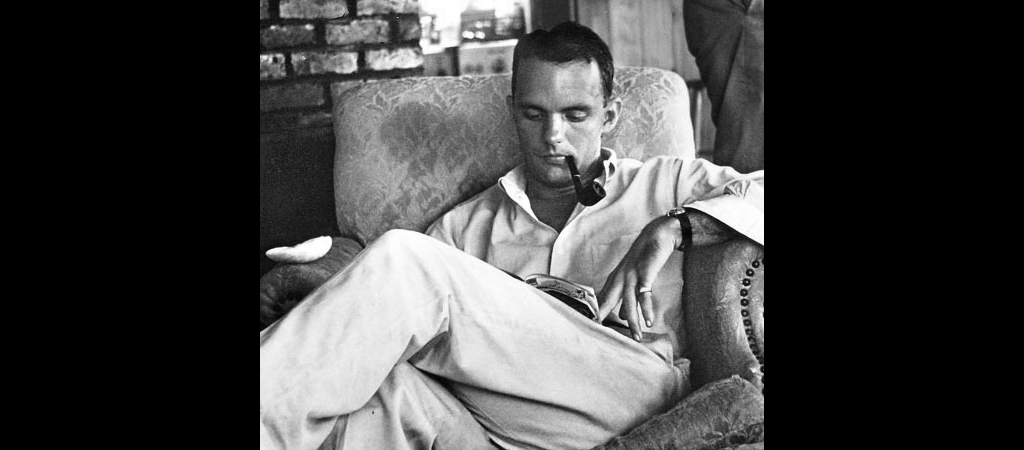 Yesterday, after our church service ended, I picked up my phone from the chair and was surprised to see I had a text message notification from my wife. She had been there with me, in that same service, up on the stage and down on the first row. My first thought was that maybe she was informing me of something embarrassing, like, "Your zipper is down!" or "You have two different shoes on!" or something like that. But when I read her text message, it made me smile and feel known and loved. Here's a screenshot of it: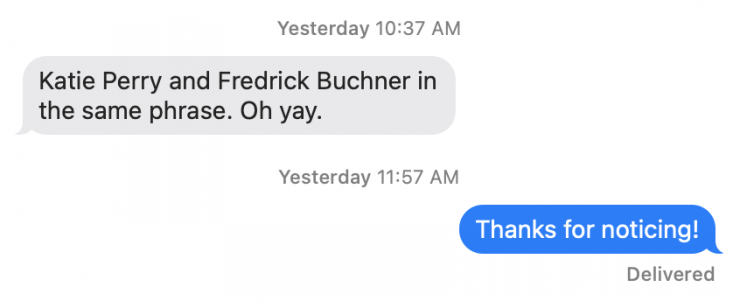 She knows I love to include in my sermons some jarring  juxtapositions of the ancient and modern, the sacred and the secular, high art and guilty pleasures… and she was calling me out for it.
Anyway, it was one of those messages that I really felt and really believe and parts of it seemed to just flow out of me as if the words were already written and established in my heart for ages. I was gonna share the link to the video of the sermon, but we had some technical glitch that I would not understand if I tried and could not fix if my life depended on it (so, no judgment, media team!). The glitch meant no audio was recorded at all.
Oh well, I actually prefer being read than watched or listened to anyway! And, lucky for me, all of my sermons are complete manuscripts. So I'm sharing The Sermon That Did Not Record Which Had Katy Perry And Frederick Buechner In It.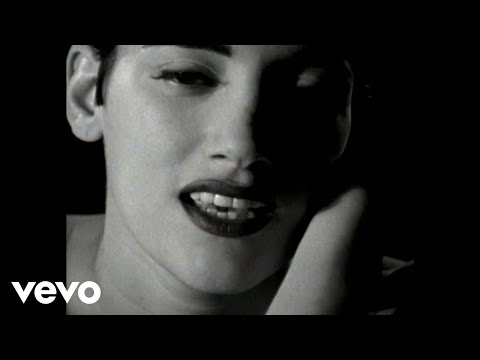 https://www.youtube.com/watch?v=10V_Z0_udjg
Just a little background on this song, "Love… Thy Will Be Done" —
Martika was a young new artist who began recording in the late '80's. In the early '90's, she really wanted to work with Prince—so she reached out and he agreed to meet her. When they met, he asked to see some of her work, some of the lyrics she'd written… and she handed him her journal. He looked through it and asked if he could take it for some time to sit with it and see what resonated with him. Martika agreed.
A week later, Prince got together with her and showed her what he'd done. He took something she wrote – something she had written as a prayer – and turned it into this song: Love… Thy Will Be Done. He'd already recorded a demo – with all the music and with his voice singing the lyrics.
Prince was the producer for Martika's recording of the song – and in July of 1991 it was her first single released… it reached the top 10 on the charts of seven countries, including Australia, where it peaked at number one in October 1991.
Since that time, it's been covered by multiple artists.
And after Prince's death, his original recording that he brought to Martika – with him singing, was released on the album Originals in June of 2019. It's an album of songs that Prince wrote and gave to other artists to record and perform and it contains his demos.
"Love… Thy Will Be Done" is a two-time Song of Summer… 1991 and 2019.
And I love it.
Especially these lines:… Read More