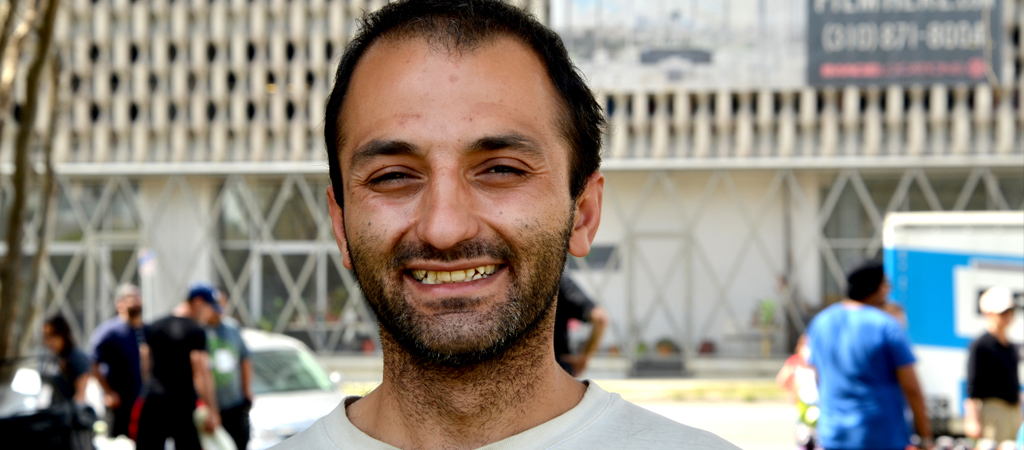 Advent Day 7: Advent Isn't A Guilt Trip But It Is A Journey Into Compassion
*Pictured above: Kahal, a homeless man I met this past Spring. He's worked a number of jobs—in kitchens, landscaping, Uber driver… but has recently fallen on hard times. He doesn't have an address right now, or a computer, and this makes applying for jobs a challenge. I thoroughly enjoyed talking with Kahal. He was pleasant, intelligent, and kind. He was quick to smile and laugh.
Those who cannot see Christ in the poor are atheists indeed. —Dorothy Day
Advent, the season of anticipating and waiting and reflecting on the arrival of Christ, is a journey that leads us into compassion. We can't think about Christ's coming without remembering the humble, low, and socially unacceptable truths of this story…
—a young unmarried minority girl who is pregnant
—no friends or family to call on for help, no place to go for shelter
—needing to squat where it was allowed—in the animal barn of the local inn
How would this story sound if it had played out in 21st century America?
Perhaps Jesús would have been born in the early morning hours at a downtown homeless shelter.
At the end of Jesus' ministry on earth, he spoke of the final judgment and those who would be rewarded, saying:
"For I was hungry and you gave me something to eat, I was thirsty and you gave me something to drink, I was a stranger and you invited me in, I needed clothes and you clothed me, I was sick and you looked after me, I was in prison and you came to visit me."
But the righteous answered saying, "Lord, when did we see you…?"
And the King will reply, "Whatsoever you did for the least of these brothers and sisters of mine, you did it to me." (Matthew 25)
Today from 9am to 12pm, our churches are working together to care for the homeless in our community. We're serving food, giving away care packages, and throwing a Christmas party.
Two days ago, the Seattle Times had a story on the rise in homelessness in the King County/Seattle area. We have the third largest homeless population in the nation—that's just after New York and Los Angeles. And Seattle is nowhere near being the third biggest city; we're actually number eighteen. This means we have an exceptionally large number of homeless people for the size of our community.
Depending on how you look at it, this is a blessing and opportunity or it is a curse and someone else's problem.
"Lord, when did we see you?"
Advent is to be a journey into compassion, reminding us of how Jesus entered into this world… reminding us of the kinds of places Jesus will be found.
Jesus will be found in the low places and among humble faces.
"Whatsoever you did for the least of these brothers and sisters of mine, you did it to me."
Very few looked for God tucked away in a barn in a baby's fragile body and today we're still looking for God in all the wrong places. —Dan White Jr.
This time of year is busy – parties with friends and coworkers and family members. There are so many places to go, movies to see, gifts to purchase, and foods to eat. But there was one thing I was happy to add to my calendar: The Homeless Care Package Giveaway and Christmas Party at Mill Creek Middle School in Kent, WA. It might actually be the most Jesusy thing I experience this Christmas.
In Pastor Rudy Rasmus' book Love. Period. he writes, "I don't ask why a person is homeless or jobless or cross-dresses or smells bad. I don't care if it's her fault, someone else is to blame, or if a meteor came from outer space and caused the problem. There's no need to assign blame, keep score, or label people. Instead, I just see someone Jesus is dying to love, someone who needs help, someone God has put in my path at the moment to touch in a tangible, meaningful way."
God comes in such a way we can always turn him down. God comes to us in the hungry man we do not have to feed, comes to us in the lonely woman we do not have to comfort, comes to us in all the desperate human need of people everywhere that we are always free to turn our backs upon. God puts himself at our mercy… because that is the way love works.  —Frederick Buechner
I can't wait to share some stories with you from today's event.
PRAYER: God, take me on a journey deeper into compassion during this Christmas season. Amen.