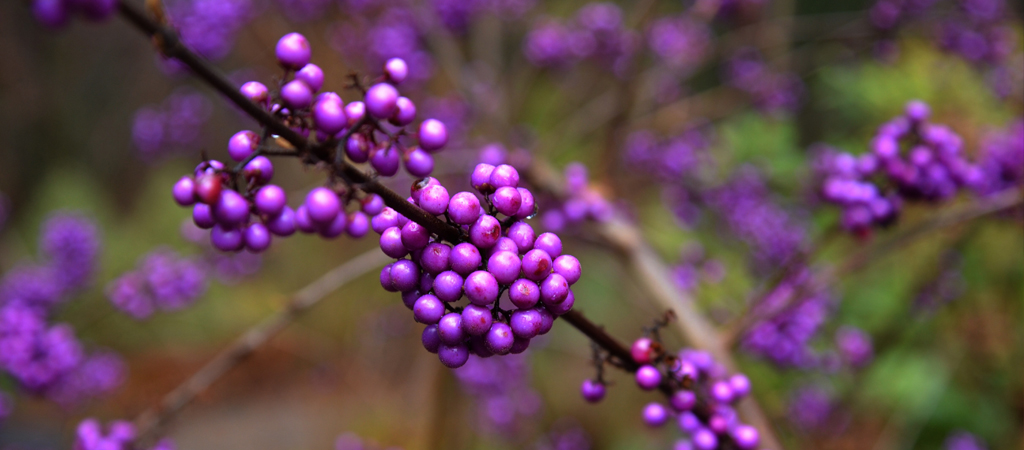 Advent Day 2: The Power of a Blessing
*photo above: Callicarpa shrub (Beautyberry) at the Lake Wilderness Arboretum
Elizabeth gave a glad cry and exclaimed to Mary, "God has blessed you above all women, and your child is blessed. Why am I so honored, that the mother of my Lord should visit me? When I heard your greeting, the baby in my womb jumped for joy. You are blessed because you believed that the Lord would do what he said." —Luke 1.42-45
In Jan Richardson's introduction to her book Circle of Grace: A Book of Blessings for the Seasons, she writes…
I find myself compelled by the power of a blessing: how in the space of a few lines, the stuff of pain, grief, and death becomes the very substance of hope. I wanted not only to know more about that place; I wanted to live there. Blessings enable us to perceive the ways the sacred inhabits the ordinary, impressing upon us that every moment and each place lies within the circle of God's care.
Blessings are often poetic, pulsing with the rhythms of invocation… and taking on the cadence of litany and liturgy. They use ordinary language in ways that can become extraordinary, offering words that arrest our attention and awaken us to how the holy is at work in our very midst.
A true blessing is meant also to provoke us, to incite us to a response. The best blessings awaken our imaginations.
The story of Mary's visit to Elizabeth in the gospel of Luke illuminates this capacity a blessing holds to not only perceive what is, but also imagine what could be. Finding herself pregnant, unmarried, and quite alone following the archangel Gabriel's astonishing visit, during which she offered her radical consent to become the mother of Christ, Mary flees to the home of her kinswoman Elizabeth. There she finds a place of sanctuary, solace, and blessing.
Blessed are you among women, Elizabeth cries out when Mary enters her home, and blessed is the fruit of your womb.
Mary basks in Elizabeth's blessing, but she does not stop there. She responds with the song we have come to know as the Magnificat, a stunning poem of praise to the God who redeems and restores the world.
Mary and Elizabeth's story provides a model of what a blessing can do. In their encounter, we witness the power of a blessing to encompass us with shelter and sanctuary even as it frees us to imagine and live into a world made new.
A blessing is, finally, something wild. It leads us where we did not imagine to go, and never in a straight line. This is the nature of a blessing—and the nature of God, who meets us in each moment, within time and beyond it, encompassing us season by season in a circle of grace.
My soul magnifies the Lord
And my spirit rejoices in God my Savior;
Because He has regarded the lowliness of His handmaid;
For behold, henceforth all generations shall call me blessed;
Because He who is mighty has done great things for me,
and holy is His name;
And His mercy is from generation to generation
on those who fear Him.
He has shown might with His arm,
He has scattered the proud in the conceit of their heart.
He has put down the mighty from their thrones,
and has exalted the lowly.
He has filled the hungry with good things,
and the rich He has sent away empty.
He has given help to Israel, his servant, mindful of His mercy
Even as he spoke to our fathers, to Abraham and to his posterity forever.