About That Tweet (What Are The Barns?)
Two days ago, on Monday evening, I tweeted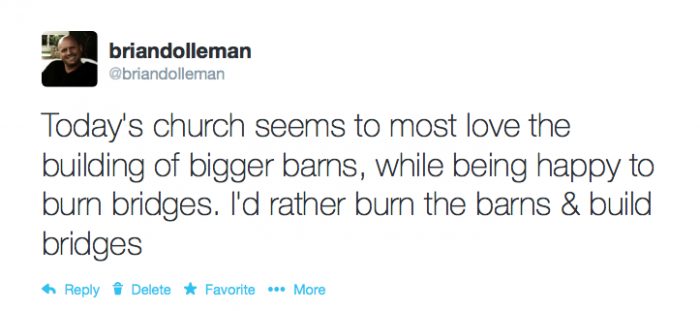 Then, concerned that I sounded a little too destructive, I tweeted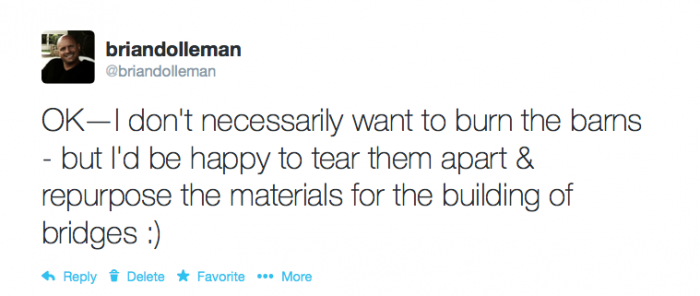 A text smiley face makes everything go down easier, right?
So, about that tweet.
It generated some lively discussion. People asked good questions. And some of those questions made me realize…
How I'm defining "barns" might not be what others assume I was talking about.
I'm not talking about buildings.
Just like I'm not wanting to go into the steel and cement bridge-building business, I'm also not considering becoming a pyromaniac. I'm not talking about burning down church buildings. I'm not against buildings. In fact, our church desperately needs another one.
For me, the "barns" represent an inward focus, and the "bridges" represent an outward focus.
The church's love of building bigger barns is seen in the endless ways we go about empire-building. I'm talking about Christianity as a brand. Christianity as a political party. Christianity as an entertainment industry. Christianity as a retail product sold at LifeWay and Christian Supply stores. Christianity as denominationalism and tribalism. Christianity as Christian celebrity worship.
Christianity… built for, and consumed by Christians.
Now, I get it. I'm a Christian too…
And I read the books. I've listened to a few Christian songs in my day (I'm not a big fan of Kirk Cameron and Christian movies – but that's just a matter of taste, I think).
I suppose I benefit from the barns. They have been built for, and consumed by me – Mr. White Christian American.
But I don't really want to see bigger barns built.
I'm not interested in…
Brand-
Empire-
Denominational-
Christian Celebrity Status-
Barn-building.
Honestly, I 'd rather burn the barns and build bridges. Or at least re-purpose the materials and use them for bridge-building.
I would rather see those billions of Christian entertainment dollars spent on meeting the needs of hurting people in our country. I would rather see our denominational hierarchies flattened. I would rather see more listening on our part and less defending of our beliefs and rules in a post-Christian society. I would rather see less protest and more compassion. I would rather see less inward-focus and more outward-focus. I would rather see hungry children around the world fed than…
You know what I mean. Less empire. And more bridges.
Bridges to those who have been hurt, abused, kicked-out, overlooked, labeled, ignored, and vilified by the Christian brand – our bigger-barn-building empire.
Less empire. More bridges.
That's all. That's what I meant by "barns" and "bridges."
Right now, Ellie Goulding's song is playing in my head…
And we gonna let it burn burn burn burn
I'm interested in your perspective.
What do you think?
Would you add any description to "barns" that need to burn?
Thoughts on bridge-building?