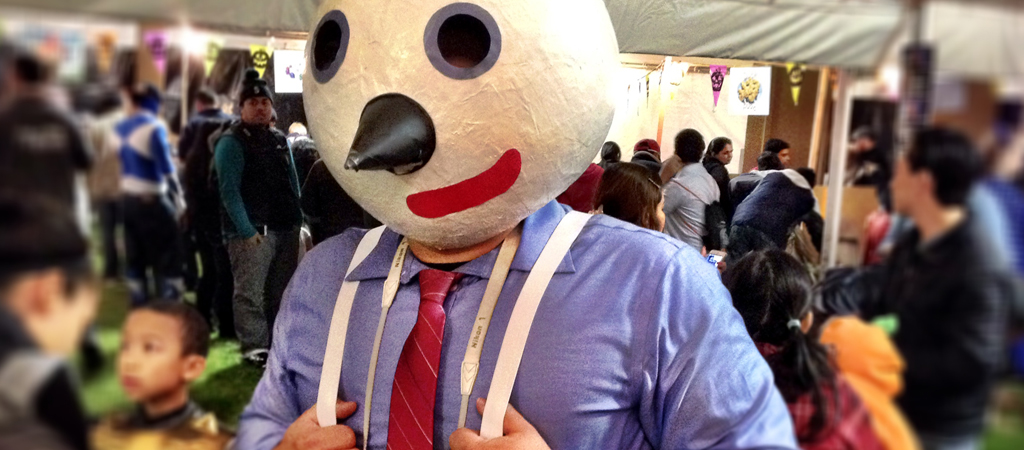 Each year, we put on a huge party for our community—the annual Halloween Kid's Carnival.
There's a big circus tent, food trucks, music, inflatables, prizes, carnival games… and tons of candy.
Two hundred volunteers serve. About three thousand people attend.
It's one of our biggest outreach events of the year.
I spend part my time at the carnival standing at the entrance—greeting families as they come in.
It's fun seeing all the kids and their costumes.
There are bumblebees and ladybugs, Spidermans and Ironmans, princesses and cowboys, and Elsa and Olaf from Frozen…
And there are also zombies, monsters, werewolves, and other creepy-looking costumes.
My natural instinct is to smile and react positively to Elsa and Olaf and bumblebees and ladybugs, while looking away and ignoring the zombies and werewolves (I'm guessing this instinct comes from growing up in the church and attending "Harvest Festivals" with a "Cute Costume Only" dress code).
However, instead of following my natural instinct, I remind myself to see the beauty in every person.
I smile and react positively to ALL of them—the CREEPY and the CUTE. I remember that under the mask, there's a real person.
By the way, THIS IS TRUE EVERYDAY—not just on Halloween.
Underneath whatever costume or mask or condition is a real person.
This is why we must smile, react positively, and see the beauty.
Jesus never looked away or ignored the misfits.
He saw their beauty, value, and significance… He saw the person. He was drawn to them—and they were drawn to Him.
Don't believe me? Check out Luke chapter 5.
There, you'll read a story about a man with an "advanced" case of leprosy.
That dude probably looked like a zombie or a mummy…
And while others looked away, Jesus saw him. He spoke to him. He even touched him.
It's a simple thought, yet so important: We must SMILE, REACT POSITIVELY, and SEE THE BEAUTY.