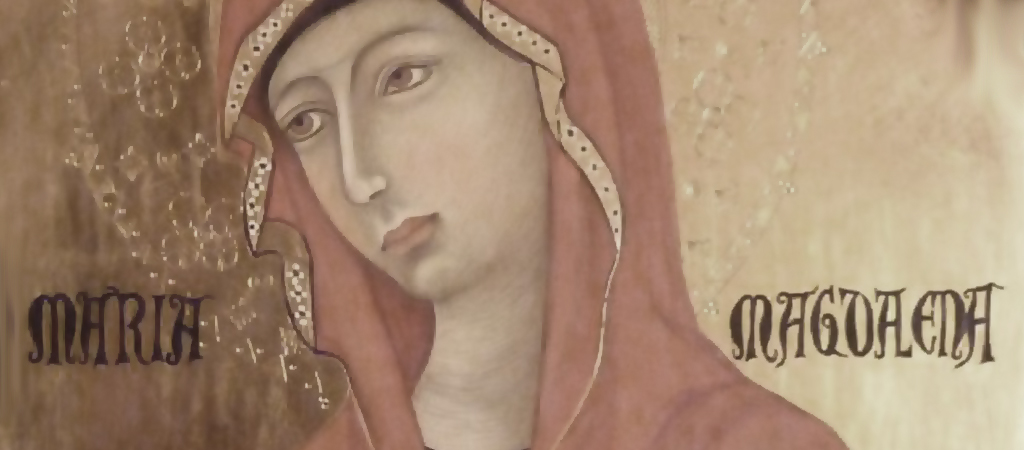 Men Need To Hear What Women Have To Say (Why Patriarchy Is Still A Problem)
Patriarchy has been around forever – and it is still here today.
According to Webster:
Patriarchy is… social organization marked by the supremacy of the father in the clan or family, the legal dependence of wives and children, and the reckoning of descent and inheritance in the male line; control by men of a disproportionately large share of power.
Or basically, "The dudes make all the important decisions, and the women quietly submit to them."
Of course, much has changed in Western society – but around the world and within the church, many (dudes) are still clinging to patriarchy. In the news this week a story of 100+ school girls being kidnapped by Islamic extremists in Nigeria is a jarring reminder of what's at the heart of patriarchy: the desire to control by force.
The dudes (members of the Boko Haram terrorist group) have recently intensified their efforts. They had been showing up at schools to warn the girls: "Go home, get married, and forget education – it's un-Islamic." But now, they're using force (because that's what is at the heart of patriarchy – the desire to control by force).
Patriarchy was a problem in Bible times too…
When Mary Magdalene went to visit the tomb where Jesus had been buried, she discovered the stone had been rolled away and it was empty. As she turned to leave, Jesus was standing there. And He gave her a message to preach: "Go tell the boys…" (John 20.17-18)
She was commissioned and entrusted to be the first one to share the Good News of a resurrected Savior.
A woman, with something to say.
She rushed to the men and gave them the message, and their reaction was priceless:
But the story sounded like nonsense to the men, so they didn't believe it. (Luke 24.11)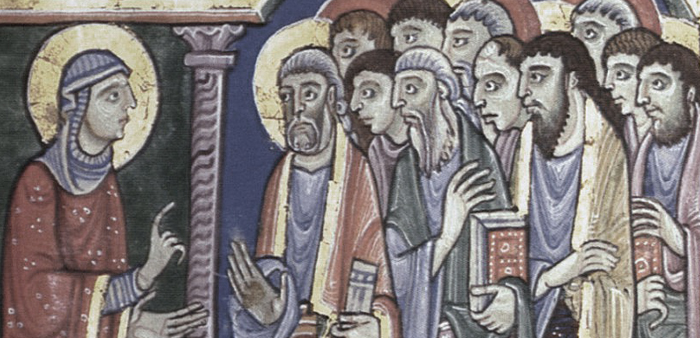 Was it the content of the message that sounded like nonsense? Or was it the fact that a woman was telling them to believe something new?
Their reaction (What a bunch of nonsense! Silly woman with your wives tales) is cringe-worthy. Also cringe-worthy are these quotations from the church leaders and theologians through the ages…
"Woman is a temple build over a sewer." —Tertullian, "the father of Latin Christianity"
"Women's very consciousness of their own nature must evoke feelings of shame." —Saint Clement of Alexandria
"Woman does not possess the image of God in herself but only when taken together with the male who is her head, so that the whole substance is one image. But when she is assigned the role as helpmate, a function that pertains to her alone, then she is not the image of God. But as far as the man is concerned, he is by himself alone the image of God just as fully and completely as when he and the woman are jointed together into one." —Saint Augustine
"What is the difference whether it is in a wife or a mother, it is still Eve the temptress that we must beware of in any woman… I fail to see what use woman can be to man, if one excludes the function of bearing children. —Saint Augustine
"To put it briefly, one must be on one's guard with every woman, as if she were a poisonous snake and the horned devil… Thus in evil and perverse doings woman is cleverer, that is, slyer, than man. Her feelings drive woman toward every evil, just as reason impels man toward all good." —Saint Albertus Magnus
"As regards to the individual nature, woman is defective and misbegotten, for the active force in the male seed tends to the production of a perfect likeness in the masculine sex; while the production of woman comes from a defect in the active force or from some material indisposition, or even from some external influence." —Thomas Aquinas
"The word and works of God is quite clear, that women were made either to be wives or prostitutes." —Martin Luther
"No gown worse becomes a woman than the desire to be wise." —Martin Luther
These quotes are certainly troubling, but they're not just part of some shady church history. They are still being shoveled out to the masses. Here's what one wildly popular celebrity pastor recently said:
A husband should be the firm and responsible head of his household, the leader of a "little flock called home and family." He should think of his wife as "a garden" and himself as "the gardener." If you look at your garden and don't like how it looks, just remember: "You are the gardener."
It's the same ol' same ol' – power, control by force – patriarchy.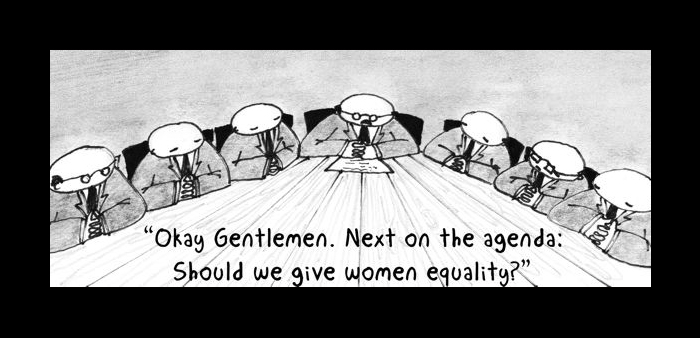 Here's what I believe: MEN NEED TO HEAR WHAT WOMEN HAVE TO SAY.
Patriarchy is still a problem. Every time some dude gets all bent out of shape and goes sideways in the church over some specific issue, I only ever hear from the dude. Every time.
This kind of dude never brings his wife to the meeting. He comes alone. He accuses. He demands a response (the one he wants). He comes for a showdown and he plans to win.
And every time I am in one of these meetings, I find myself thinking, "What does his wife think about this issue? What does she have to say about it?"
Again, here's what I believe: MEN NEED TO HEAR WHAT WOMEN HAVE TO SAY.
I don't agree with Tertullian and Saint Augustine and Martin Luther and Bill Gothard and Pat Robertson and Mark Driscoll on this issue.
I believe Mary Magdalene had something important to say.
I believe women in my church have something important to say.
I believe the women in my city and country and world have something important to say.
And I believe the women in my life have something important to say.
I want to listen. I want to learn. I want to be challenged. I want to be corrected. I want to be led…
By men and women.
Patriarchy is still a problem today.
Control by force might be the way some dudes like it, but it is not the way of Jesus – not then, not now.
SEE ALSO:
This post on Angela Hagebusch's blog, 3 Reasons I believe We Need Women In Ministry
This post, Chuza's Wife
Q. What do you think about patriarchy?