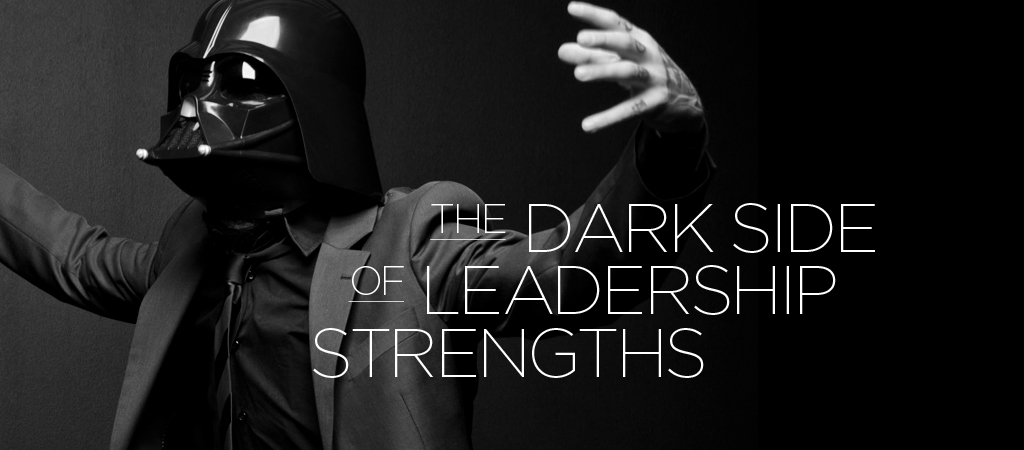 Doing Great Things Without Becoming Darth Vader
Leadership—specifically Christian leadership—is a messy business. It's messy because it's never pure. The motive behind what we do is a mixture of Ego, Ambition, & Holy Calling. And there is this shadowy dark side that goes along with our leadership strengths – what I call the Underbelly of (Christian) Leadership.
Is it possible to do great things without abusing power, inflicting damage on others, becoming a control freak, or leading with a sense of entitlement (breaking rules to satisfy personal desires)?
Is it possible to do great things without becoming Darth Vader?
In my opinion, it's not.
Let me clarify: If the goal is ME DOING GREAT THINGS, I will inevitably abuse power, inflict damage on others, become a control freak, and lead with a sense of entitlement. If it's about me doing great things, I will become Darth Vader.
Not too many years ago, my goal was to someday have a church of 10,000 people. And my motive was a mixture of Ego, Ambition, & Holy Calling (in that order too – ego first, ambition second, and holy calling in third place). The goal had less to do with God or people and had way more to do with my own desire for greatness.
It's tempting to pursue greatness. But Jesus invites us to participate in something else…
Service.
That's right. We're Called To Be Servers, Not Saviors.
Our work isn't to save people, it's to serve them. God saves. We serve.
There's no form of loving God that does not include loving and serving people. When we "love" or "serve" God but not others, the god we've been serving and loving is ourselves.
God doesn't reward us for our powerful sermons, deep insights, or life-changing messages. He rewards servants.
"Well done, my good and faithful servant."
Recently, Paul Scanlon spoke at NWLife about the role of helping people in the church to flourish. He said,
"Good leadership has an agricultural—not industrial/manufacturing—approach to people. The manufacturing approach is all about a "batch mentality" and controlling the outcome. In the agricultural approach, the farmer does everything he can to create a culture of growth. He prepares the ground. He provides the necessary resources. Then he plants the seed, steps back, and patiently waits for whatever potential resident in that seed to come out."
I love that perspective.
Rarely do you hear farmers talking about doing great things. Yet they are part of something great. Their hands touch the soil and the seeds that will produce a great harvest.
Wanting breakthrough and to make a difference isn't a bad thing. I don't think we should become discouraged or passive and give up. I think we should, like Kanye says, "Work it, make it, do it." I just don't believe the result will always be "Better, faster, stronger."
Maybe being faithful is more important than our stats.
Maybe Urgency Isn't Something Jesus Ever Asked Us To Carry.
Maybe being a success story isn't necessarily the same as "Well done, good and faithful servant."
I want to make a difference. I want to help people. I want to see my city changed. I want to heal the world, make it a better place for you and for me and the entire human race…
But I don't do the healing. Or the changing. I'm not the Creator and I'm not the Savior. I am not, nor will I ever be, the Hero of the story.
The Hero does the making and the saving. He does the healing and the changing. The breakthroughs and the victories are His, not mine.
He sets the pace (and He seems to like it slow). If I were to be completely honest, This Is One Of The Things I Dislike About Ministry.
My job is to show up, be present, faithful, available. And the rest is up to Him.
"It's not the one who plants or the one who waters who is at the center of this process but God, who makes things grow. Planting and watering are menial servant jobs at minimum wages. What makes them worth doing is the God we are serving." —1 Corinthians 3.6-8 MSG
Jean Vanier says, "We are not called by God to do extraordinary things, but To Do Ordinary Things With Extraordinary Love. "
According to Vanier,
"We have to remind ourselves constantly that we are not saviors. We are simply a tiny sign, among thousands of others, that love is possible, that the world is not condemned to a struggle between oppressors and oppressed, that class and racial warfare is not inevitable."
This is how we can do great things without becoming Darth Vader…
Remember that the greatest is the servant.
Remember there is only one Hero and it's not you or me.
Remember to be a farmer, not a manufacturer.
Remember to trust in the slow work of God.
Remember to keep showing up, to keep being present, to keep being faithful and available.
Remember, Jesus never said, "You're being too patient" or "You're being too humble."
WHAT DO YOU THINK? Is it possible to do great things without becoming Darth Vader? How?
This is part 3 of a 3-part series on The Dark Side of Leadership Strengths. Check out part 1 "Ego, Ambition, & Holy Calling," and part 2 "The Underbelly of Christian Leadership."