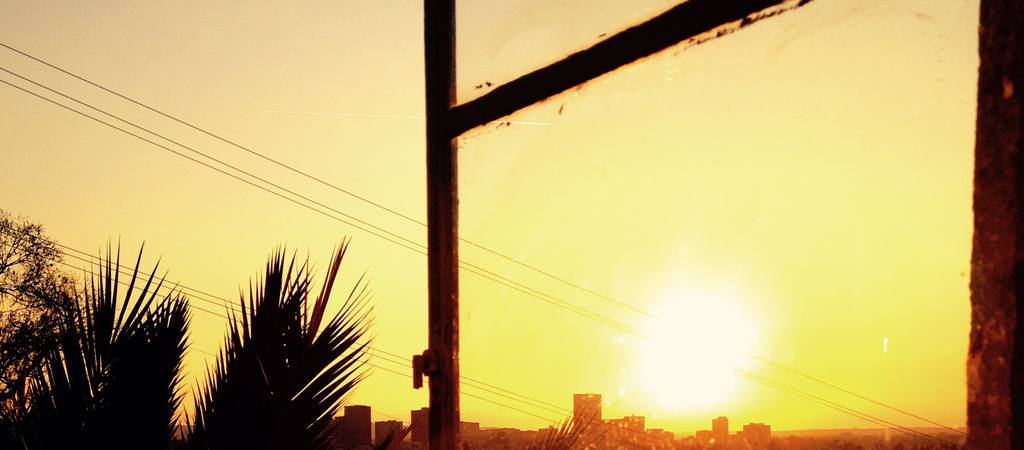 14 Good & Bad Stains 2014 Left On Me
*note: The picture above was taken through the window of my room at the Los Angeles Dream Center from our recent trip with a crew from NWLife – serving for a week there.
I'm so ready for 2015.
This year—while it wasn't all bad—certainly had more than it's fair share of bad news. I've felt like 2014 has refused to go out quietly or peacefully. It all reminds me of the opening lines from Jesus Walks by Kanye West…
Yo, we at war. We at war with terrorism, racism, and most of all we at war with ourselves.
As I reflect on 2014, I'm struck by a number of things that left their mark on me. So here they are: 14 Good & Bad Stains 2014 Left On Me…
1. Salumi. I'd heard about this place for maybe a couple of years – but finally got there in 2014. It's a small operation owned and operated by Armandino Batali (father of celebrity chef Mario Batali). It was the best sandwich I've ever had in my life: the Salumi Muffo. One of the guys who went with me to Salumi, after finishing his sandwich and wiping his mouth with a napkin, sighed and said "My whole soul is smiling."
2. Gun trauma. The short story: I found a gun and didn't know what to do with it. The longer version of the story is on Facebook.
I've decided to never go on that particular trail again.
3. Calvary. This was my favorite movie of 2014.
4. Controversy. That's the name of a new e-mailbox folder I created on my computer this year. The controversy surrounding #BlackLivesMatter took me by surprise – I wrote about it here.
5. The Toy Give. Really, all the big gives (Backpacks, Kid's Carnival, Thanksgiving Groceries, Christmas Toys). At the Toy Give, I sat with a family – watching as the children returned to their seats with wrapped Christmas gifts. The girl started opening hers, and her mom quickly made her stop, saying "These are going under the tree!" My impression was these gifts given by the church would be all this family would have for Christmas.
6. Fundamentalism's white-knuckled grip. From the Boko Haram terrorists to Christian fundamentalists, these folks are full of fear and anger. They view themselves as defenders of the right way and their modus operandi is control by force. In a meeting with a Christian fundamentalist this year, talking about biblical interpretation… the individual disagreed with my perspective on a particular verse of Scripture – and they threw their Bible down the table in dramatic fashion saying, "If you're going to contextualize this verse, you might as well throw the whole Bible out!"
7. Heaven Sent Fried Chicken. I went here for the first time in 2014 and all I can say is I'm in love.
This is the best I've had. And I need more.
8. Advent project. I had this crazy idea to compile a book of Advent devotions – drawing on the insights and stories of a diverse group of friends (including a Catholic priest, some charismatic pastors, moms, grandmothers, a thirteen-year-old, etc.). Well, we did it. And I think it turned out pretty cool.
9. Dream Center Trip. My daughter and I went with a team of people from NWLife to serve with the ministries of the Los Angeles Dream Center. From Skid Row to food trucks in the projects, getting our hands dirty to serve people always leaves its mark on our lives. Something else that left a mark from this trip was when our vehicle got towed and Pastor Kyle Wheeler (our driver) freaked out.
10. The city's most popular sandwich shop and megachurch closed down in 2014. I'm talking about Paseo and Mars Hill. Both stories leave a mark, an impression on me.
They are cautionary tales reminding us that mismanagement and the mistreatment of people will bring down the house.
11. Derek on Netflix. This Ricky Gervais quirky series reminds me of how fragile and precious life is.
12. Books. These books made their mark and are staying with me: "Beauty – The Invisible Embrace" by John O'Donohue, "Falling Upward" by Richard Rohr, "Learning to Walk in the Dark" by Barbara Brown Taylor, "The Upside-Down Kingdom" by Donald Kraybill, and "A Farewell to Mars" by Brian Zahnd.
13. Din Tai Fung. Or as I like to call it "The dumpling place at University Village." I can't wait to go back!
14. Jan Richardson's poem "Table Blessing." I fell in love with a table in 2014 (and wrote about it here). This poem gets to the heart of what I believe about the table…
To your table
you bid us come.
You have set the places,
you have poured the wine,
and there is always room,
you say,
for one more.
And so we come.
From the streets
and from the alleys
we come.
From the deserts
and from the hills
we come.
From the ravages of poverty
and from the palaces of privilege
we come.
Running,
limping,
carried,
we come.
We are bloodied with our wars,
we are wearied with our wounds,
we carry our dead within us,
and we reckon with their ghosts.
We hold the seeds of healing,
we dream of a new creation,
we know the things
that make for peace,
and we struggle to give them wings.
And yet, to your table
we come.
Hungering for your bread,
we come;
thirsting for your wine,
we come;
singing your song
in every language,
speaking your name
in every tongue,
in conflict and in communion,
in discord and in desire,
we come,
O God of Wisdom,
we come