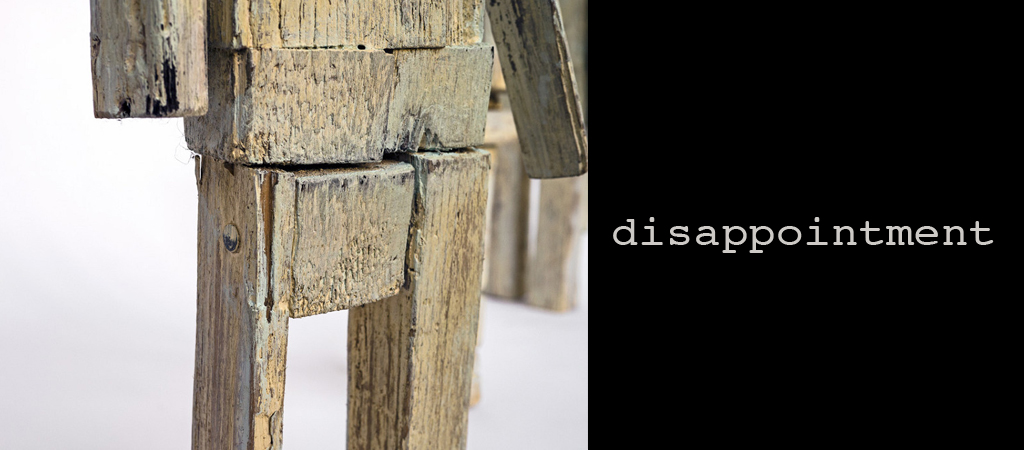 Life is disappointing.
Things don't work out the way we dreamed they would. Hopes are crushed; expectations go unmet.
And we press on. Disappointed? Yes. Out of the game? Not today.
I am well-versed in disappointment.
In my own experience, the most difficult kind is when God disappoints.
Can we talk about this?
Unanswered prayers
Apparent absence
Unprotected from terrible pain
Simple Bible verse formulas that don't work – for me anyway
Blessings going to the undeserving while I get nothing for all my efforts
My guess: I'm not alone. You've felt this too.
 For Shari and I, we experienced being disappointed by God in our years of fertility struggles…
At first, we just asked Him for help. It seemed like the kind of thing God would be in to – you know, His people being fruitful and multiplying and stuff like that. Plus, wanting to love and care for a child isn't exactly selfish on the level of asking for a record deal like Bieber or having ginormous bank accounts like Russell Simmons.
But for some reason, God wasn't coming through for us. So we upped the ante. We "built our faith" – worked on getting rid of doubt, confessed all the right Scriptures, got faith-filled friends to be praying with us, etc. And even after being higher than a kite on a multiple day faith binge, we still didn't see our mountain move.
Next, we searched frantically for potential obstacles to our prayers being answered. Perhaps God was more picky than we'd been led to believe. Was there some unconfessed sin holding us back from having our prayers answered? Maybe a little bitterness and unforgiveness against someone who had hurt us in the past? We searched and we cleaned; we confessed and we repented; we forgave and we released…
And still, nothing from God.
We decided to put it all on the line. Go big or go home. Faith is action, right? We found one of the most renowned fertility experts in the U.S. and signed the papers. Hundreds of injections, several procedures, and $30,000.00 later, we eagerly awaited the doctor's call. This time, God had to reward us for all our faith and effort. We had done everything.
The call came. Shari cried. Not happy tears of relief and joy. Tears of sorrow. Tears of disappointment.
That was almost 10 years ago. And you know what? It still stings.
We have wrestled with this disappointment and we have wrestled with God. We don't have all the answers, but we have figured out a perspective that works for us.
Some people have the theological view that says God wills our pain and suffering, and it is for His glory. These same guys believe some are predestined to be damned eternally "for God's glory." I'm not in this camp. At all.
I don't actually have answers for the whys. Why are my prayers unanswered? Why does God appear to be absent at times? Why are we often unprotected from terrible pain? Why don't simple Bible verse formulas work? Why do undeserving people seem to be blessed by God while I get nothing for all my efforts?
I. Don't. Know.
I am suspicious of people who do "know." For those who have God and His ways all figured out…
I roll my eyes at your certitude.
He cannot be tamed or contained in our categories for how He works.
If there's not some mystery and wonder in our conversations about God, I suspect we have made Him too small and possibly in our image.
Is there anyone around who can explain God? Anyone smart enough to tell him what to do? —Romans 11.33 MSG
Those questions in that verse – they're rhetorical. The answer is obvious: NO.
Some of the other translations use this word in that verse to describe God's ways: "Unsearchable."
Why does God…
Why didn't God…
Why won't God…
Yeah. Good questions. Great mystery. We don't know. Maybe we should focus on what we do know.
I'm less interested today in attempting to answer all the whys and I'm much more interested in finding God in my disappointment – even when it's Him I'm disappointed with.
Here's what we know: Jesus IS God. He suffered on our behalf. He understands rejection and He understands disappointment (My God, my God, why have you forsaken me?).
He is present in our suffering. With us in our pain.
Even when He's the disappointer, He is there. And He will also be our encourager.
Brian Zahnd said, "The world is full of unjust suffering. This is true. But God has not exempted Himself from it. In Christ, God has joined us in the reality of human suffering. If the question is 'Where is God?' – the Christian answer is, 'There, upon the cross, joining us in solidarity with our suffering.'"
Despite how we feel, God has not abandoned us. He doesn't always answer our prayers the way we hoped He would, but He is with us in our pain.
Last week my daughter had a particularly difficult day, complete with some really bad news. She was disappointed and hurting. She ran upstairs and hid.
I found her in a guest bedroom behind the bed, huddled up in the corner with a blanket. She had tears in her eyes. My heart was breaking for her. I didn't have speeches or solutions. Her disappointment was real and not to be glossed over – so I got down on the floor, cuddled up next to her and stayed.
No words. Just present. Sharing in her pain. Experiencing disappointment with her. That's all.
I believe God does the same thing with us.
We always tell people they weren't created to survive but thrive, blah-blah-blah. But in some seasons, surviving is no small thing! —Jonathan Martin
This is part 2 of 3 posts this week. Come back tomorrow for "Maybe Disappointment is OK After All" and check out yesterday's "Life Is Disappointing."
Will you join the conversation?
QUESTION: What perspectives have helped you deal with being disappointed by God?