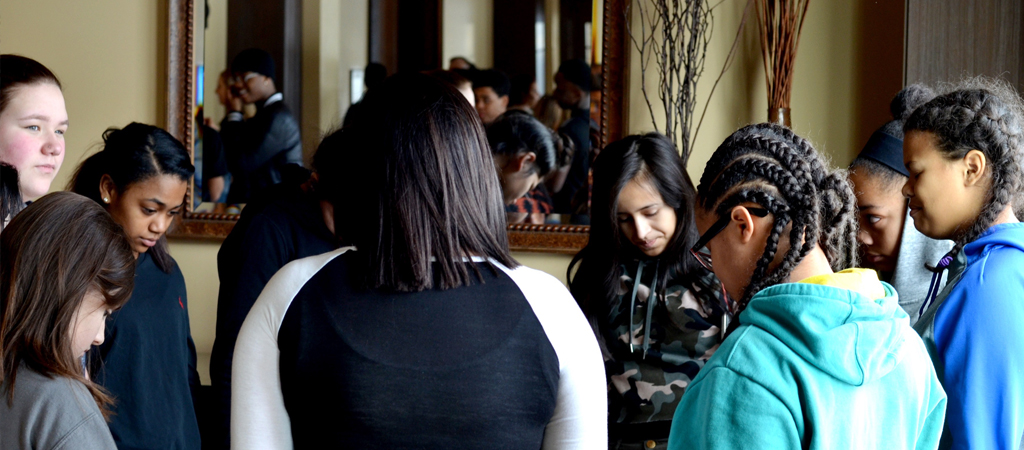 Lent Day 3… Hardness & Strength Are Death's Companions
 I will take away their stony, stubborn heart and give them a tender, responsive heart. —Ezekiel 11.19
The picture above is from our recent youth winter camp. I was standing outside the meeting room at Suncadia Lodge, taking pictures of the students as I waited for the service to begin. There was a group of girls circled up, holding hands, and praying. I thought it was sweet—and I took a picture.
After the camp, I asked Bailey (the youth leader whose back is toward us in the picture) some questions about this little prayer circle: Were all the leaders given instructions to do this? Was this the only time you prayed with the girls? Bailey told me it was just her idea… and that she prayed with them like this before each service.
Now I love the picture even more. It represents such tenderness—a genuinely soft and responsive heart.
I had the privilege of preaching to our students that first night of camp. The message was titled "A Place We Call Home & The People We Call Family." At the end of the message, I asked students to respond by raising hands and then coming forward—for like two or three different things. And they did respond. I was particularly surprised by the number of young men who came forward who needed healing and hope because of hurt they had experienced in their own homes. They weren't hiding it. Most, if not all of them, were crying.
Later than night, as Shari and I walked back to our room in the Lodge, she asked me, "Do you think adults would respond like that if we had an adult camp or retreat?" I shook my head and said no. "It's a special window of time in young people's lives where they are vulnerable, open, and responsive. I really don't think adults would respond like that."
Maybe this is what Jesus was getting at when he said, "I tell you the truth: Unless you change and become like little children, you will never enter the kingdom of heaven." —Matthew 18.3
We live in a world that admires strength, grizzled toughness, UFC champions, leaders who never apologize for anything, and people who "tell it like it is" (a pseudonym for being crass and rude). But heaven seems to admire, and perhaps require, something completely different.
Consider this quote from filmmaker Andrei Tarkovsky:
Weakness is a great thing… strength is nothing. When a man is just born, he is weak and flexible. When he dies, he is hard and insensitive. When a tree is growing, it's tender and pliant. But when it's dry and hard, it dies. Hardness and strength are death's companions. Pliancy and weakness are expressions of the freshness of being… what has hardened will never win.
Hardness and strength are death's companions. Remember that. 
Be soft. Do not let the world make you hard. Do not let pain make you hate. Do not let the bitterness steal your sweetness. Take pride that even though the rest of the world may disagree, you still believe it to be a beautiful place. —Kurt Vonnegut
Thank you Bailey for reminding me of what real leadership looks like—tender, soft, and responsive.