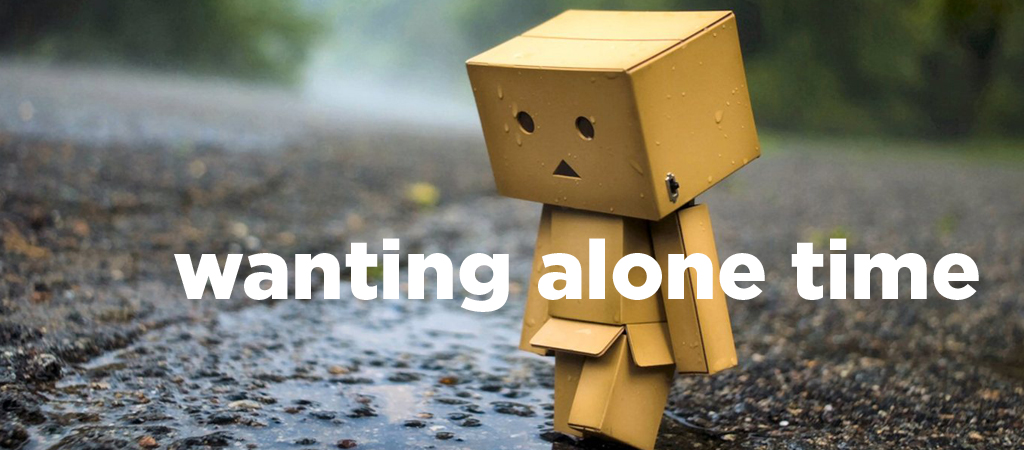 The "North Pond Hermit" was arrested this year. He is Christopher Knight, a 47 year old man who went into the central Maine wilderness 27 years ago to live a solitary life.
He was arrested for stealing. Over the past 27 years, he committed more than 1,000 burglaries – breaking into camps and retreat centers during the night for food and supplies.
In 27 years, he only spoke once to another person.
The story fascinated me. On one hand, I'm impressed with his survival skills and ingenuity. But I also wonder on a scale of 1 to 10 how crazy someone has to be to live like this.
I'm curious how long I would last. I'm pretty sure where I'd break down first is in the camping department. I'd give up on being a hermit because I suck at camping. Being cold and hungry would drive me back into civilization by lunch time.
The alone part sounds kind of nice to me.
Not for 27 years—but I do want to be alone. In fact, I need to be alone.
I have to be alone very often. I'd be quite happy if I spent from Saturday night until Monday morning alone in my apartment. That's how I refuel. ― Audrey Hepburn
Yesterday's post "I Feel Alone" might have sounded like a complaint. It wasn't meant to be one. I intended it to be a confession – I'm an odd duck and I wish people could understand me.
As an introvert, I am not "recharged" by being around people. I love people and I need people—AND being around people eventually taxes me. In order to recharge, I need solitude.
Loneliness expresses the pain of being alone and solitude expresses the glory of being alone. —Paul Tillich
The glory of being alone. I like that. A lot.
At the family dinner table, one of our common practices is to share our "best" and "worst" of the day. It's a little embarrassing how often my "best" of the day is about having precious alone time – getting out on the trail by myself, having a few hours in the office before anyone else arrived, being left at home alone on my day off…
I've never once described a meeting as my "best" of the day.
Sometimes I feel selfish and guilty for wanting time alone. It can seem Lone Ranger-ish or aloof. But I've discovered something: Not only do I need time alone, the people in my life need me to have time alone. That's right. I'm better for them when I am recharged, and I'm not very fun to be around when I'm drained.
The trail I spend lots of alone time on goes by water and fields and forests. When I'm out there, I feel like I'm inside the 23rd Psalm – He leads me beside still waters; He restores my soul.
That's what solitude does for me. It restores my soul.
With all the various distractions gone, I am able to hear His voice and sense His presence. I can rest and be still. It is healing and restoring.
I can be alone without being lonely. In fact, those times of solitude are necessary respite for a beleaguered soul, set upon by the pressures of life. I need to take whatever moments I can to just be still. ― Steve Goodier
WHAT ABOUT YOU: How is your soul restored?
This is part 2 of 3 posts this week. Check out yesterday's "I Feel Alone" and come back tomorrow for "Between Alone & With"