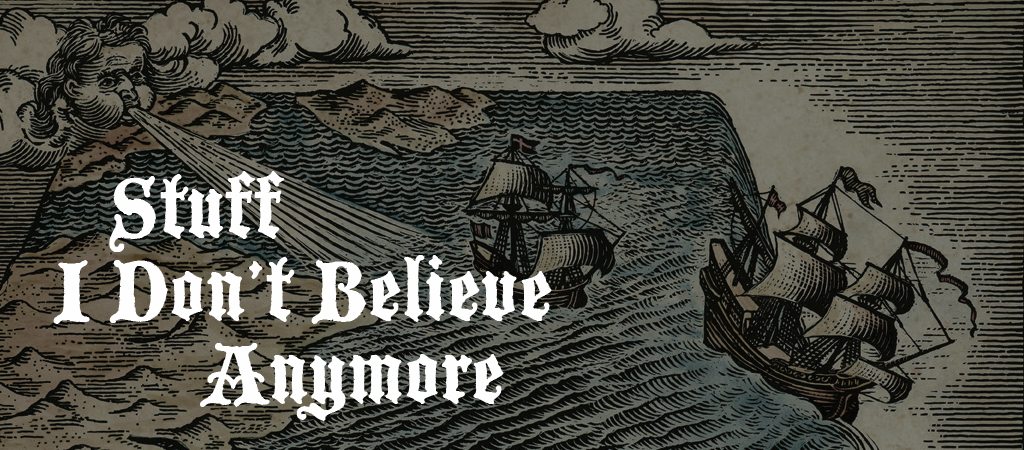 URGENT WORLD CHANGER REVIVAL
NOTE: I decided to add on a little bit to last week's 3-part series "Stuff I Don't Believe Anymore." I guess this makes it a 4-part series now…
I used to be in the river.
And by "In the river," I mean I was a participant in revival / renewal / river whatchamacallit. Yeah, I was in a church that had chofars  and streamers and banners and dancers. Church services were looooooooooonnnnnng and rather excitable. People whooped and hollered, shook, and "fell out."
We sang, "Let The River Flow" and "Revival Fire Fall." If Lindell Cooley or Brian Doerksen wrote it, we sang it.
It was all very intense. We believed God was moving in a special way through our passion and devotion.
But there was something unhealthy about it. The focus was always on us—on how God was speaking to us, healing us, moving in us, leading us, blessing us… It was always us-focused, and never others-focused.
We were enjoying it. Probably way too much. I write about this in a PG-13 post called "Getting Your Jollies & Spilling Your Seed."
I used to believe "revival" was what God wanted for us. Now I don't believe that stuff anymore.
Think about it. Revivals don't last. They are temporary. Kinda like "being on fire." Things that are on fire eventually burn out.
Upping the ante, stirring greater passion, and getting all urgent about spiritual things doesn't always produce a positive result. In fact, it sometimes has devastating consequences.
In our attempts to make something happen spiritually, we can end up looking more like the prophets of Baal than Elijah. They shouted and danced and worked up a sweat, and even bled a little… believing if they were loud and passionate and urgent enough, their gods would respond.
It didn't work though.
Here's what did: a simple, quiet, non-showy prayer from Elijah.
The call for urgency is overused and over-hyped in the church.
We sound like that 1981 song by Foreigner, "Urgent."
You say it's urgent. Make it fast, make it urgent. Do it quick, do it urgent. Gotta rush, make it urgent. Want it quick. Urgent, urgent, emergency.
How long can urgency be sustained?
I think there's another, perhaps healthier, way: trusting in the slow work of God. Here's what Pierre Teilhard de Chardin says about that…
"Above all, trust in the slow work of God.
We are quite naturally impatient in everything to reach the end without delay.
We should like to skip the intermediate stages. We are impatient of being on the way to something unknown, something new. And yet it is the law of all progress that it is made by passing through some stages of instability—and that it may take a very long time.
And so I think it is with you; your ideas mature gradually—let them grow, let them shape themselves, without undue haste. Don't try to force them on, as though you could be today what time (that is to say, grace and circumstances acting on your own good will) will make of you tomorrow.
Only God could say what this new spirit gradually forming within you will be. Give Our Lord the benefit of believing that his hand is leading you, and accept the anxiety of feeling yourself in suspense and incomplete."
Yes! I'm learning to trust in the slow work of God – not my passion or my urgency or my revivalistic antics.
Jesus told a parable that is often overlooked. It's called the parable of "The Growing Seed." In this story, He likens the Kingdom of God to a farmer who scatters seed on the ground.
Night and day, while he's asleep or awake, the seed sprouts and grows, but he does not understand how it happens. The earth produces the crops on its own. First a leaf blade pushes through, then the heads of wheat are formed, and finally the grain ripens. —Mark 4.27, 28 NLT
I love this so much.
Night and day, while he's asleep or awake…
THE SEED SPROUTS AND GROWS. He doesn't even know how or why.
A leaf blade pushes through, then the heads of wheat are formed, and finally the grain ripens. Germination and growth and maturity happen slowly.
Does the farmer play a part in this process? Absolutely. And yet, there is mystery and wonder. The miraculous happens. Life. Growth. Harvest.
Is this because of revival or urgency or passion? Probably not.
But it may have more to do with being faithful, doing what is required, being at the right place at the right time, working and resting, planting and waiting, watering and waiting, tending and waiting, waiting and waiting and waiting and waiting…
Trusting in the slow work of God.
And that is something I believe in.
WHAT ABOUT YOU? How do you see the slow work of God in your life?

This is an unplanned add-on to a 3-part series. Check out part 1 "Richer Is Always Better," part 2 "Success Will Make My Insecurities Go Away" and part 3 "Catholics Aren't Christian."